A magic square a day keeps the trouble away… or should I have said, lets the trouble stay? Well without further ado, enjoy the site!
B Puzzled
Bestaat er een Franklin vierkant van zijde 12?
De vragen na de mediastorm hebben geleid tot veel verwoede pogingen het eigenlijke probleem op te lossen. Het heeft geleid tot een intrigerend antwoord.
For all n > 1 there exists an n-multimagic square of order > 1.
The proof and explicit formula's with examples will be published in the October 2007 issue of the American Mathematical Monthly. In fact we (i.e. Harm Derksen, Christian Eggermont and Arno van den Essen) also show the analogue statement is true for all higherdimensional cubes.
A preprint can be found at arXiv, but is rather more difficult and technical to read than the one published in the AMM, in time I will add the rewritten article to this site.
Have fun playing with this
magic square
with the following properties:
It's magic: each sum of the numbers in a row or column or main diagonal results in the same number
It contains the current date in the first 4 numbers of the first row
It can contain your date in the first 4 numbers of the second row.
»

Just substitute values for the letters

«
It's pandiagonal: each sum of numbers in a "broken diagonal" gives the same number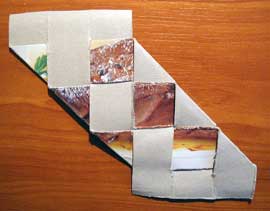 I started with a straight piece of cardboard and slit it twice, folded and braided. Can you do it?
No glue, tape or lose ends...

Bonus question: what was I cooking while making this?
Other websites:
Ancient or should-be-almost-alive-by-now-because-of-the-fungi-websites by me: